DynaTrap ½ Acre Mosquito and Insect Trap Twist On/Off with Pole Mount & 2 Bulbs
Special Price
$111.99
Regular Price
$154.99
Earn 2220 rewards points on your purchase! Learn More
Delivers effective 3-way protection against mosquitoes, biting flies, wasps, moths, and other flying insects
Provides up to ½ acre of protection indoors and outdoors
Twist On/Off feature ensures any remaining insects are securely held within the trap
Convenient pole stand allows you to place your trap nearly anywhere you've noticed insect activity
Sleek, stylish design blends in with your décor
Includes 2 bulbs for months of protection
Best Used For








DynaTrap ½ Acre Mosquito and Insect Trap Twist On/Off with Pole Mount & 2 Bulbs
Is your home and yard plagued by mosquitoes, biting flies, wasps, moths, June beetles, or stink bugs? The DynaTrap® ½ Acre Black Insect Trap provides a simple and effective option for protecting your property. This trap delivers powerful three-way protection against flying insects with its UV LED bulb, carbon dioxide, and whisper-quiet fan. Now you can place your DynaTrap® anywhere for centralized insect control using the convenient pole stand. With two bulbs, you can keep your trap running non-stop for months. The powerful all-weather trap is designed to provide protection up to ½ acre.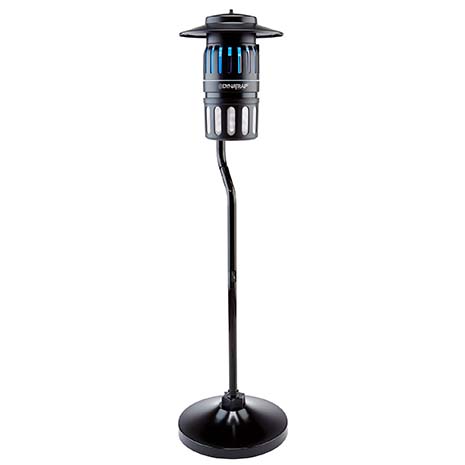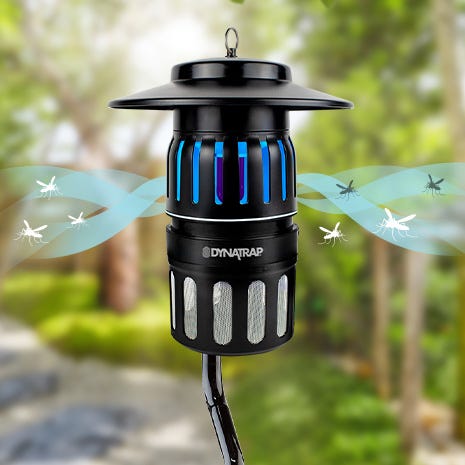 3-Way Protection
DynaTrap® technology utilizes 3-way protection to defend your property against insect pests. First, the UV LED bulb generates warm light, which is highly attractive to many pest insects. With two bulbs included, you can enjoy months of protection. The second lure, an exclusive Ti02 titanium dioxide-coated surface, produces a CO2 trail that mimics human breath and is irresistible to mosquitoes. Once attracted to the unit, the powerful, whisper-quiet fan draws the insects into the retaining cage where they dehydrate and die, typically within 24 hours.
How to Use
The DynaTrap® ½ Acre Mosquito and Insect Trap was designed with ease of use in mind. The trap requires no propane or additional attractants. To get started, place your trap on a flat surface in between insect breeding areas and people areas. The convenient pole stand allows you to place it almost anywhere you want. To avoid attracting insects to where you spend time, the trap should be located approximately 20-40 ft away from where people will be sitting or standing. Plug the trap in and keep it continuously running.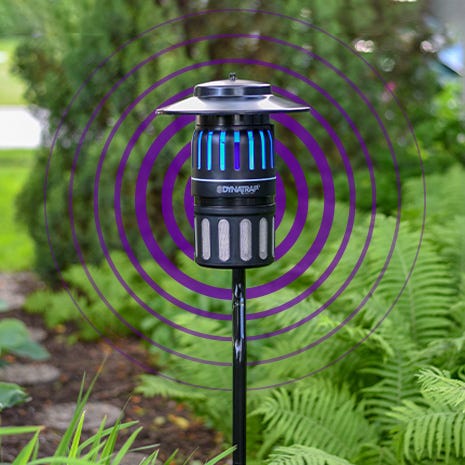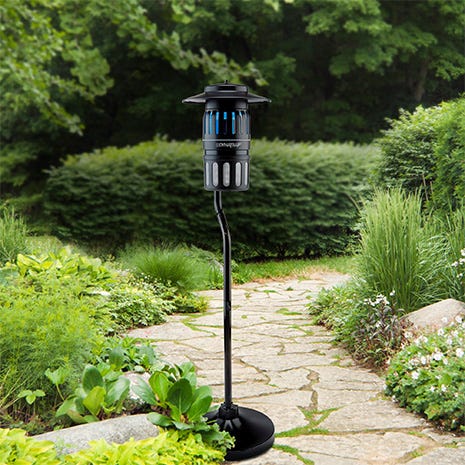 Attractive Design
Not only can DynaTrap® Mosquito and Insect Traps defend your property against bothersome insects, but they also look great while doing so. The sleek, black finish and stylish design will effortlessly blend in with your existing outdoor décor. When you factor in the whisper-quiet fan, you'll hardly even notice it's there!
What We Catch
DynaTrap® Mosquito and Insect Traps catch a wide variety of pest insects known to plague homes. This trap is ideal for trapping mosquitoes, biting flies, Asian beetles, wasps, hornets, yellow jackets, moths, stink bugs, and more! This trap is not designed to attract honeybees and other beneficial insects.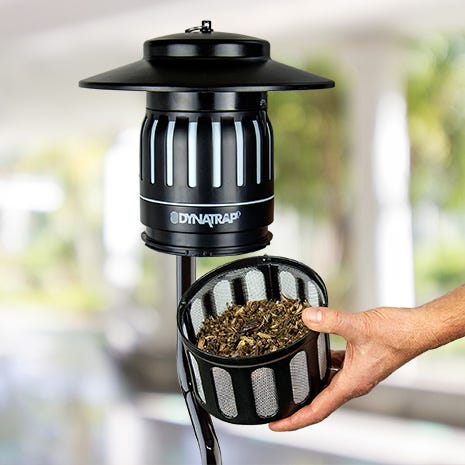 DynaTrap ½ Acre Mosquito and Insect Trap Twist On/Off with Pole Mount & 2 Bulbs Product Details
Do you want to know more helpful details about the DynaTrap ½ Acre Mosquito and Insect Trap Twist On/Off with Pole Mount & 2 Bulbs? Take a closer look at the in-depth specifications for this product.
DynaTrap® 1/2 Acre Mosquito and Insect Trap with Optional Wall Mount and 2 Replacement Bulbs
Model #
DT1260-2B
Includes

DynaTrap ½ Acre Mosquito and Insect Trap with Twist On/Off & Pole Mount (1 Trap)
2 Bulbs

Effective Against
Mosquitoes, biting flies, house flies, sand flies, blow flies, drain flies, flies, moths, no-see-ums, June beetles, wasps, yellow jackets, stink bugs, gnats, and biting midges
Replacenent Bulb
Part #41050
Coverage
Up to 1/2 acre
Where to Use
Indoors or Outdoors
DynaTrap ½ Acre Mosquito and Insect Trap Twist On/Off with Pole Mount & 2 Bulbs
Model #
DT1260-2B
Includes

DynaTrap ½ Acre Mosquito and Insect Trap with Twist On/Off & Pole Mount (1 Trap)
2 Bulbs

Effective Against
Mosquitoes, biting flies, house flies, sand flies, blow flies, drain flies, flies, moths, no-see-ums, June beetles, wasps, yellow jackets, stink bugs, gnats, and biting midges
Replacenent Bulb
Part #41050
Coverage
Up to 1/2 acre
Where to Use
Indoors or Outdoors