DynaTrap® ¼ Acre Mosquito & Insect Trap Kit
Special Price
$114.99
Regular Price
$144.96
DynaTrap® ¼ Acre Mosquito & Insect Trap Kit
1
3
5
1
Earn 2280 rewards points on your purchase! Learn More
Attracts and traps mosquitoes, biting flies, house flies, moths, no-see-ums, June beetles, wasps, yellow jackets, stink bugs, gnats, and biting midges
Durable, all-weather trap effectively protects up to ¼ acre
Delivers discreet 4-way protection with no zapping or buzzing
UV light and whisper-quiet vacuum fan draw insects into the trap
ATRAKTA lure sachets mimic human skin scents to increase trap catch rates
Includes a ¼ Acre Mosquito & Insect Trap, a 2-pack of ATRAKTA® Lure Sachets, and a universal mount
Cannot Ship to:
IN, NM, PR
Best Used For








DynaTrap® ¼ Acre Mosquito & Insect Trap
Is your home and yard plagued by mosquitoes, biting flies, wasps, moths, Asian beetles, or stink bugs? The DynaTrap® ¼ Acre Mosquito & Insect Kit provides a simple and effective option for protecting your property. This trap delivers powerful four-way protection against flying insects with its UV fluorescent bulb, Ti02 coating, ATRAKTA® sachets, and whisper-quiet fan. The lightweight, portable, and powerful all-weather trap is designed to provide protection up to ¼ acre. Good things really do come in small packages!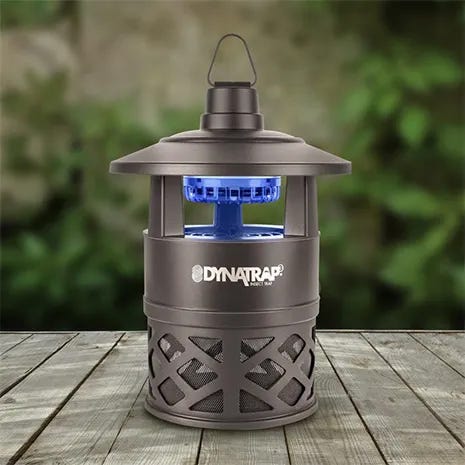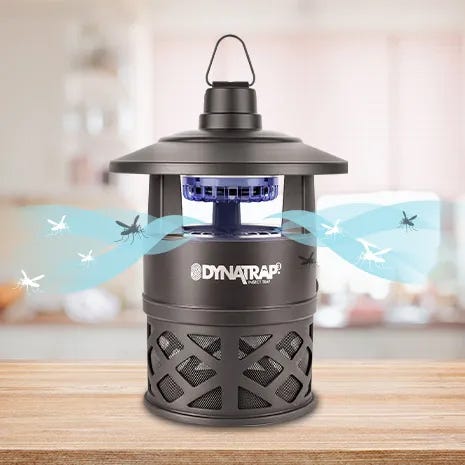 4-Way Protection
DynaTrap® technology utilizes 4-way protection to defend your property against insect pests. First, the UV fluorescent bulb generates warm light, which is highly attractive to many pest insects. Then a second lure, an exclusive Ti02 titanium dioxide-coated surface, creates a reaction to produce a CO2 trail that mimics human breath and is irresistible to mosquitoes. Additionally, the included ATRAKTA® sachets emit irresistible human skin scents to attract more insects than ever before. Once attracted to the unit, the powerful, whisper-quiet fan draws the insects and mosquitoes into the retaining cage where they dehydrate and die, typically within 24 hours.
How to Use
The DynaTrap® ¼ Acre Mosquito & Insect Trap was designed with ease of use in mind. To get started, simply open the trap and place a sachet in the bottom of the basket. Then hang the trap using the included Universal Mount or place your trap on a flat surface in between insect breeding areas and people areas. Place traps 3-6 feet above the ground to increase chances of mosquito contact. To avoid attracting insects to where you spend time, the trap should be located approximately 20-40 ft away from where people will be sitting or standing. Plug the trap in and keep it continuously running.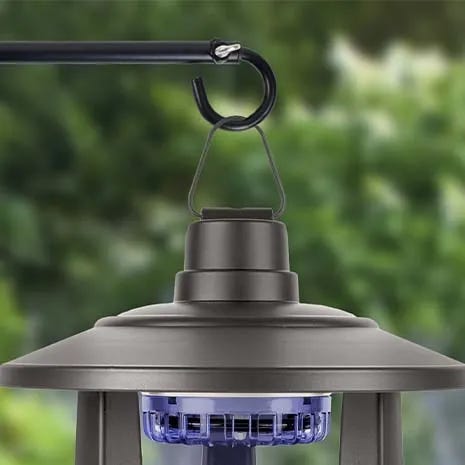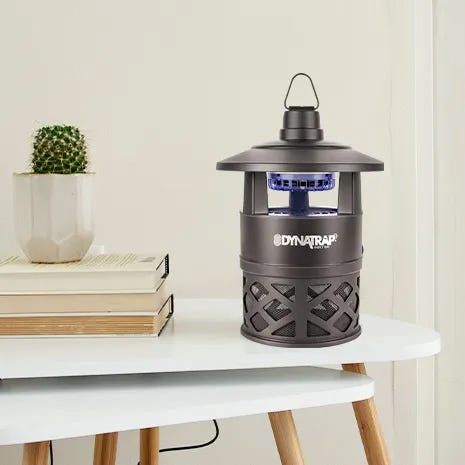 Attractive Design
Not only can DynaTrap® Insect Traps defend your property against bothersome insects, but they also look great while doing so. The sleek, tungsten-colored finish and decorative basket will effortlessly blend in with your existing home décor. When you factor in the whisper-quiet fan, you'll hardly even notice it's there!
What We Catch
DynaTrap® Mosquito & Insect Traps catch a wide variety of pest insects known to plague homes. This trap is ideal for trapping mosquitoes, biting flies, house flies, sand flies, blow flies, drain flies, flies, moths, no-see-ums, June beetles, wasps, yellow jackets, stink bugs, gnats, and biting midges. This trap is not designed to attract honeybees and other beneficial insects.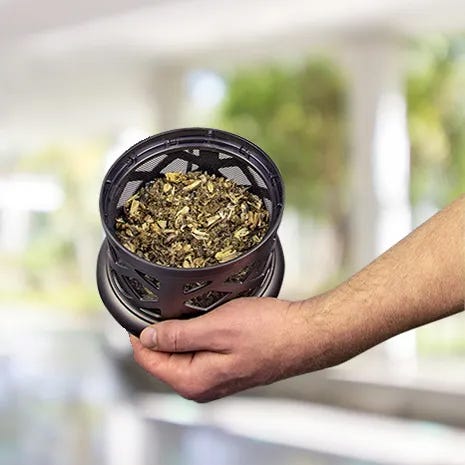 DynaTrap® ¼ Acre Mosquito & Insect Kit Product Details
Do you want to know more helpful details about the ¼ Acre Mosquito & Insect Kit? Take a closer look at the in-depth specifications for this product.
DynaTrap® ¼ Acre Mosquito & Insect Kit
Model Number
BDTQRTACREKIT2
Includes
Effective Against
Mosquitoes, biting flies, house flies, sand flies, blow flies, drain flies, flies, moths, no-see-ums, June beetles, wasps, yellow jackets, stink bugs, gnats, and biting midges
Coverage
Up to ¼ acre
Where to Use
Indoors or Outdoors
DynaTrap® 1/4 Acre Mosquito & Insect Kit
Model #
BDTQRTACREKIT2
Includes
Effective Against
Mosquitoes, biting flies, house flies, sand flies, blow flies, drain flies, flies, moths, no-see-ums, June beetles, wasps, yellow jackets, stink bugs, gnats, and biting midges
Coverage
Up to ¼ acre
Where to Use
Indoors or Outdoors
Customer Reviews
0%
of customers
recommend this product