DynaTrap® Indoor Ultralight Mosquito & Insect Trap - Tungsten
Special Price
$37.49
Regular Price
$47.99
DynaTrap® Indoor Ultralight Mosquito & Insect Trap - Tungsten
20
3.7
5
1
Earn 740 rewards points on your purchase! Learn More
Attracts and traps a variety of flying pest insects including mosquitoes, biting flies, and more
Delivers 3-way protection with no buzzing or zapping
UV light and whisper-quiet vacuum fan draw insects into the trap
Durable, lightweight trap is designed for use indoors and in covered outdoor settings
What We Catch: mosquitoes, biting flies, house flies, sand flies, blow flies, drain flies, flies, moths, no-see-ums, June beetles, wasps, yellow jackets, stink bugs, gnats, and biting midges
Effectively protects up to 300 square feet
Best Used For








DynaTrap® Indoor Ultralight Tungsten Insect Trap
Is your home plagued by mosquitoes, biting flies, wasps, Asian beetles, or stink bugs? The DynaTrap® Indoor Ultralight Tungsten Insect Trap provides a simple and effective option for protecting your property. This trap delivers powerful three-way protection against flying insects with its UV fluorescent bulb, Ti02 coating, and whisper-quiet fan. The lightweight, portable, and powerful trap is designed to provide protection up to 300 square feet without weighing you down.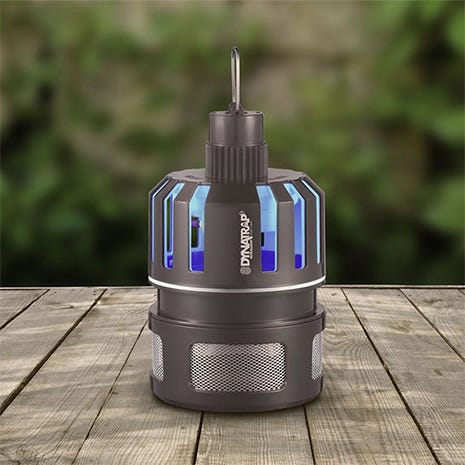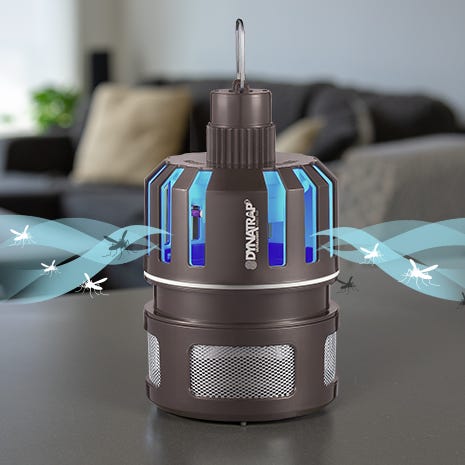 3-Way Protection
DynaTrap® technology utilizes 3-way protection to defend your property against insect pests. First, the UV fluorescent bulb generates warm light, which is highly attractive to many pest insects. Then a second lure, an exclusive Ti02 titanium dioxide-coated surface, creates a reaction to produce a CO2 trail that mimics human breath and is irresistible to mosquitoes. Once attracted to the unit, the powerful, whisper-quiet fan draws the insects and mosquitoes into the retaining cage where they dehydrate and die, typically within 24 hours.
How to Use
The DynaTrap® Indoor Ultralight Insect Trap was designed with ease of use in mind. There's no zapping or buzzing and the trap requires no propane or additional attractants (optional). Simply plug it into a standard 120v outlet and let it do the work for you. Hang or place the trap on a flat surface indoors or in a covered outdoor space. For best catch results it is recommended to keep the unit away from competing light sources. The trap will provide up to 300 square feet of protection.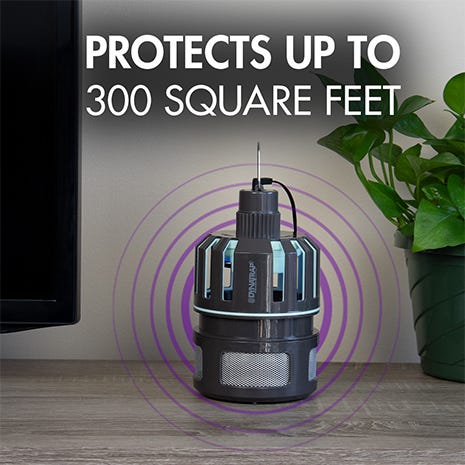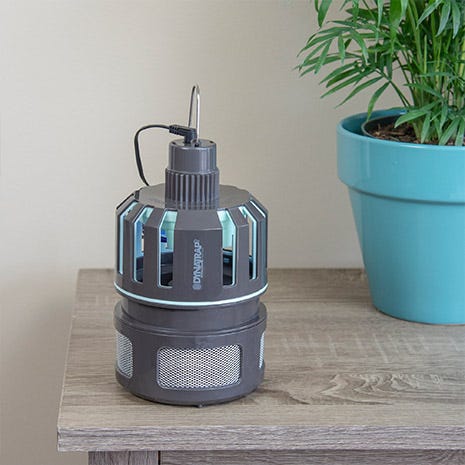 Attractive Design
Not only can DynaTrap® Insect Traps defend your home against bothersome insects, they look great while doing so. The sleek, tungsten-colored finish will effortlessly blend in with your existing home décor. When you factor in the whisper-quiet fan, you'll hardly even notice it's there!
What We Catch
DynaTrap® Insect Traps catch a wide variety of pest insects known to plague homes. This trap is ideal for trapping mosquitoes, biting flies, house flies, sand flies, blow flies, drain flies, flies, moths, no-see-ums, June beetles, wasps, yellow jackets, stink bugs, gnats, and biting midges. This trap is not designed to attract honeybees and other beneficial insects.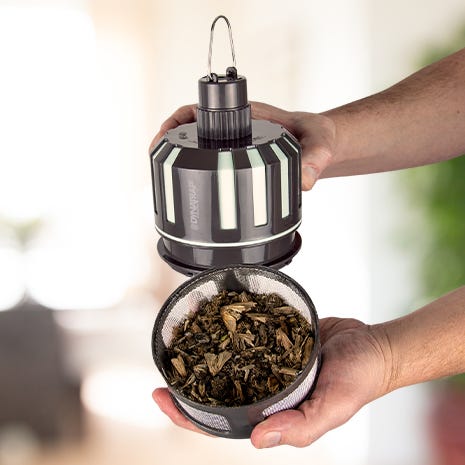 DynaTrap® Indoor Ultralight Tungsten Insect Trap Product Details
Do you want to know more helpful details about the DynaTrap® Indoor Ultralight Tungsten Insect Trap? Take a closer look at the in-depth specifications for this product.
DynaTrap® Indoor Ultralight Tungsten Insect Trap
Model Number
DT150-TUN
Effective Against
mosquitoes, biting flies, house flies, sand flies, blow flies, drain flies, flies, moths, no-see-ums, June beetles, wasps, yellow jackets, stink bugs, gnats, and biting midges
Coverage
Up to 300 square feet
Where to Use
Indoors or Covered Outdoor Settings
DynaTrap® Indoor Ultralight Tungsten Insect Trap
Model Number
DT150-TUN
Effective Against
mosquitoes, biting flies, house flies, sand flies, blow flies, drain flies, flies, moths, no-see-ums, June beetles, wasps, yellow jackets, stink bugs, gnats, and biting midges
Coverage
Up to 300 square feet
Where to Use
Indoors or Covered Outdoor Settings
Customer Reviews
60%
of customers
recommend this product