DynaTrap® Flylight Indoor Insect Trap Kit - Black - All Questions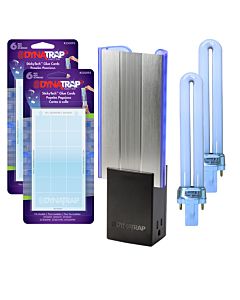 DynaTrap® Flylight Indoor Insect Trap Kit - Black
How do you change the light bulbs?
Question by: Robert Theil on Aug 16, 2022, 4:25 PM
1. UNPLUG UNIT, and allow bulb to cool before replacing.
2. Cover the bulb with a cloth to protect your fingers and hand. Grasp the bulb (with your hand and fingers protected by the cloth) and gently pull the bulb from the socket.
3. Remove any debris from the lamp socket before inserting the new bulb.
Answer by: Lauren Potter (Admin) on Aug 17, 2022, 8:22 AM