DynaTrap® Indoor Ultralight Mosquito & Insect Trap - Tungsten - All Questions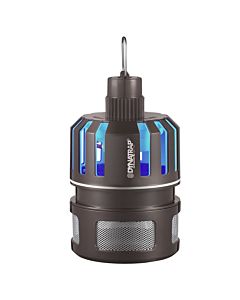 DynaTrap® Indoor Ultralight Mosquito & Insect Trap - Tungsten
Does this trap just regular house flies?
Question by: Debbie Becker on Dec 10, 2021, 1:57 PM
This trap kills mosquitoes and other nuisance flying insects including biting flies, wasps, stink bugs, and Asian beetles.
Answer by: Brandon Deleon on Dec 10, 2021, 2:21 PM
What is the difference between the DT150 and the DT150TUN I need it to kill indoor noseeums, dust mites and maybe sandflies? but I need something that is powerful because these mites seems to be very intelligent nothing is working.
Question by: Barbara on Jan 12, 2022, 1:49 PM
The only difference between these two traps is the color.
Answer by: Lauren Steiner on Jan 12, 2022, 2:23 PM
Are the bulbs replaceable on the model DT150-TUN?
Question by: Bruce R Abernathy on May 30, 2022, 7:50 PM
The bulb in the DT150-TUN will last for approximately 20,000 hours, after which it is not replaceable, and the unit can then be discarded.
Answer by: Rachel Faust on May 31, 2022, 8:50 AM