DynaTrap® Indoor Insect Trap Kit
Special Price
$59.99
Regular Price
$74.98
Earn 1180 rewards points on your purchase! Learn More
Attracts, traps, and kills a variety of flying insects including house flies, mosquitoes, fruit flies, gnats, moths, and more
UV-LED light, CO2 technology, and whisper-quiet vacuum fan draw insects into the trap
StickyTech™ glue card and ultra-fine mesh basket prevent insect escapes
Discreet, stylish trap is designed for indoor use and blends in with home décor
Effectively protects up to 600 square feet
Includes 1 DynaTrap® Indoor Insect Trap and 1 pack of DynaTrap® Refill StickyTech™ Glue Card Refills
Cannot Ship to:
DC, IN, NM, OK, WV, WY, PR
Best Used For





DynaTrap® Indoor Insect Trap Kit
Don't let flying insects invade your space. The DynaTrap® Indoor Insect Trap Kit delivers results you can see with a trap you won't notice. DynaTrap® combines stylish design with powerful 4-way protection to rid your home of a variety of flying insects. This discreet, lightweight trap blends in with any décor and provides up to 600 square feet of flying insect protection. With one pack of Refill StickyTech™ Glue Card Refills included, you can enjoy the peace of mind of extended insect protection.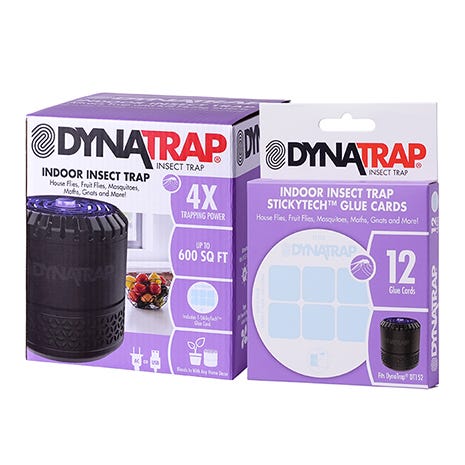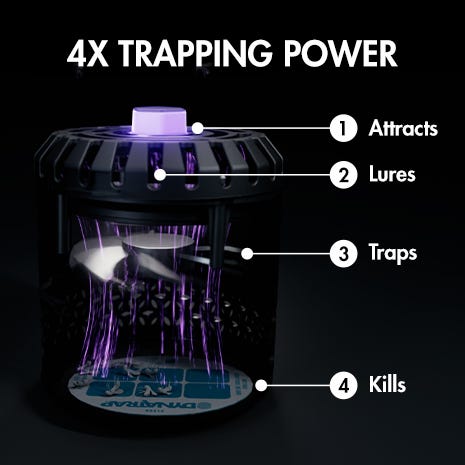 4x Trapping Power
DynaTrap® uses 4-way technology to defend your property against flying pests. First, the energy-efficient UV-LED lights shine horizontally for 360-degree visibility to insects. Then the Ti02-coated surface creates a reaction to produce a CO2 trail that mimics human breath. Once drawn to the trap, the powerful, whisper-quiet fan sucks insects into the basket. Even the smallest insects are unable to escape thanks to a StickyTech™ glue card and the basket's ultra-fine mesh screen.
Discreet Design
Not only can the DynaTrap® Indoor Insect Trap defend your home against bothersome insects, but it also looks great while doing so. The sleek matte black finish and decorative basket will effortlessly blend in with any décor. When you factor in the whisper-quiet fan, you won't even notice it's there.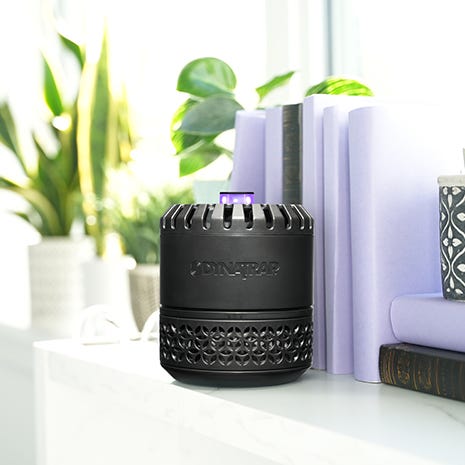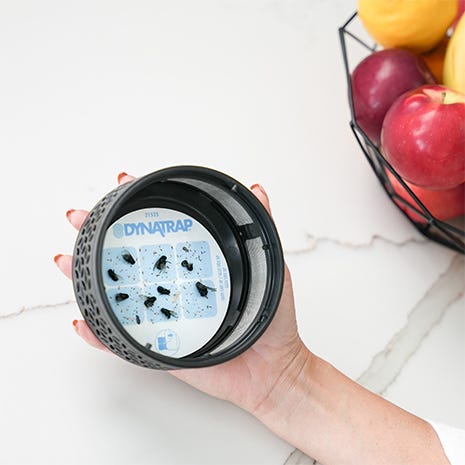 Results You Can See
Our homes attract many types of flying insects. The DynaTrap® Indoor Insect Trap attracts and traps a variety of pest insects known to plague homes, including house flies, mosquitoes, fruit flies, gnats, moths, and more. Once inside, insects get trapped on the StickyTech™ glue card and are hidden from view within the basket.
Easy to Use
Simply plug the trap into a wall outlet or USB port, insert a StickyTech™ glue card in the basket, and let the trap do the work for you. Place it near common insect hotspots, including near houseplants, exterior doors, pet areas, in kitchens, bathrooms, garages, and other areas of your home. Plus, maintenance is minimal. Replace the glue card when it becomes full, or every 30 days.
DynaTrap® Indoor Insect Trap Kit Product Details
Do you want to know more helpful details about the DynaTrap® Indoor Insect Trap Kit? Take a closer look at the in-depth specifications for this product.
DynaTrap® Indoor Insect Trap Kit
Model Number
BDT152KIT
Includes

1 x DynaTrap® Indoor Insect Trap
1 x DynaTrap® Refill StickyTech™ Glue Boards

Effective Against
House flies, mosquitoes, fruit flies, gnats, moths, and more
Coverage
Up to 600 square feet
Where to Use
Indoors
DynaTrap® Indoor Insect Trap Kit
Model Number
BDT152KIT
Includes

1 x DynaTrap® Indoor Insect Trap
1 x DynaTrap® Refill StickyTech™ Glue Card Refills

Effective Against
House flies, mosquitoes, fruit flies, gnats, moths, and more
Coverage
Up to 600 square feet
Where to Use
Indoors