DynaShield® Repellent Refill Pads - 24 Pack
Special Price
$53.99
Regular Price
$59.94
Earn 1060 rewards points on your purchase! Learn More
Bundle includes enough DynaShield® Refill Repellent Pads to last a whole season
Repels mosquitoes using natural essential oils
Each repellent pad protects for up to 6 hours each use
Provides up to 144 hours of protection on hand
Designed for use with DynaShield® Mosquito Repellent devices
Safe to use around children and pets when used as directed Includes 24 refill repellent pads
Cannot Ship to:
CT, FL, ID, IL, ME, MS, RI, SD, WA
DynaShield® Full Season Repellent Pad Refills
The DynaShield® Full Season Repellent Pad Refill Bundle keeps you stocked with mosquito-repelling power for your DynaShield® device. This kit includes 24 refill repellent pads that use natural essential oils to repel mosquito pests. For your convenience, each repellent pad lasts up to 6 hours and is safe to use around kids and pets when used as directed. With so many repellent pads on hand, you can enjoy protection all summer long!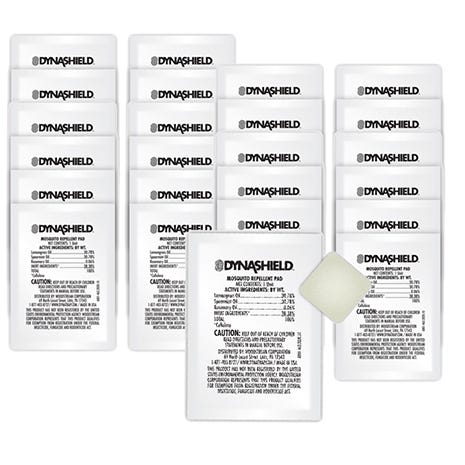 How it Works
The DynaShield® Mosquito Repellent Refill Pads use a special blend of natural essential oils including Lemongrass, Spearmint and Rosemary that mosquitoes find unpleasant and avoid. While this device emits a fresh, summer scent into the air, it's also deterring the pests away from the portable device.
Hours of Protection
The DynaShield® Mosquito Repellent device can provide up to 6 hours of continuous outdoor protection on one refill pad! After that, it's best to replace the refill pads after each use. With 24 refill pads included with this pack, you have a stock of 144 hours of protection on hand.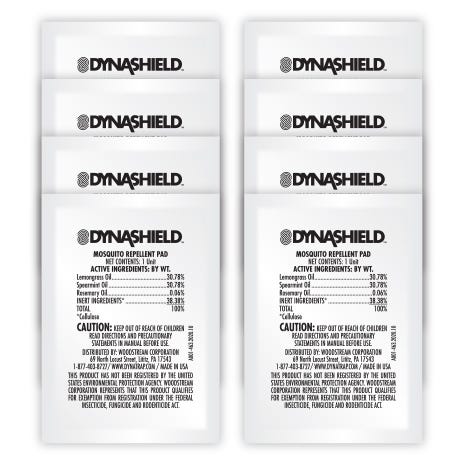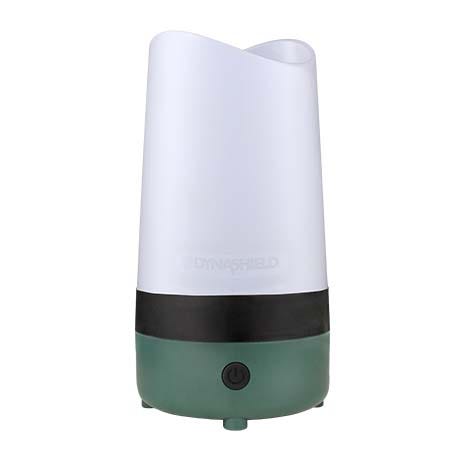 Implement DynaDefense®
The DynaShield® Mosquito Repellent Refills are used to keep the DynaShield® device, which can be used in conjunction with any DynaTrap® Mosquito & Insect Trap! The DynaShield® repellent device provides you with an extra layer of concentrated protection in the spaces where you need it most, by pushing mosquitoes away from your high-traffic outdoor areas. Then, place your DynaTrap® 20-40' away from those high-traffic areas to capture the mosquitoes that were repelled, eliminating them and keeping your yard protected 24/7. Using both devices ensures that you have everything you need to defend your outdoor oasis from mosquitoes!
DynaShield® Full Season Repellent Pad Refills Product Details
Do you want to know more helpful details about the DynaShield® Full Season Repellent Pad Refills? Take a closer look at the in-depth specifications for this product.
The DynaShield® Full Season Repellent Pad Refills
Model #
BDS1000R8-3
Includes
DynaShield® Mosquito Repellent Refill Pads – 24 refill pads
Effective Against
Mosquitoes
DynaShield® Full Season Repellent Pad Refills - 24 - Pack
Model #
BDS1000R8-3
Size
13.4" x 9.5" x 1.1" & 0.35# (package)
Ingredients

Active Ingredients: 61.62%

Lemongrass Oil: 30.78%
Spearmint Oil: 30.78%
Rosemary Oil: 0.06%

Inert Ingredients: 38.38%

Effective Against
Mosquitoes