Atrakta Mosquito Lure Sachet
As low as
$19.99
Regular Price
$19.99
Atrakta Mosquito Lure Sachet
45
4.6
5
1
Earn 380 rewards points on your purchase! Learn More
Attract mosquitoes to your DynaTrap® to enhance catch rates
Lure imitates scents mosquitoes naturally find hard to resist
Ready to use, simply place inside trap and turn trap on
Designed for use with any DynaTrap® Mosquito and Insect Trap
Replace each lure sachet every 60 days for the best results
Available Sizes: 1 Pack, 2 Pack, or 3 Pack
DynaTrap® ATRAKTA® Mosquito Lure
The DynaTrap® Outdoor ATRAKTA® Mosquito Lure Sachet Refills enhance your trap's ability to attract insects, which maximizes its trapping power. Each lure imitates naturally occurring, human skin scents that mosquitoes find irresistible. The sachet refills contain no harsh chemicals or poisons, making them ideal for homes when used as directed.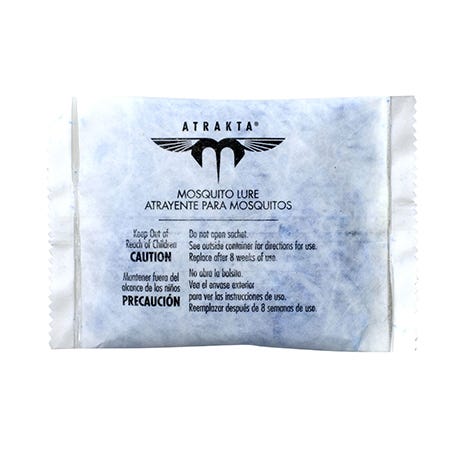 Irresistible Natural Scent
ATRAKTA® Mosquito Attractant Sachets include natural and powerful scents to enhance the lure of your trap. Utilizing a combination of Lactic Acid, Octenol, and Ammonium Bicarbonate, the sachets draw mosquitoes away from you and into your trap. Replace every 60 days to ensure that the attractant is operating at maximum efficacy.
How to Use
The ATRAKTA® sachet lure refills are designed to fit in any DynaTrap® Outdoor Mosquito and Insect Trap. Simply open your trap, place a sachet in the bottom of the insect retaining cage, and the lure will get to work immediately. For the best results, it's recommended to change each lure after 60 days to ensure mosquitoes are attracted to the trap as effectively as possible.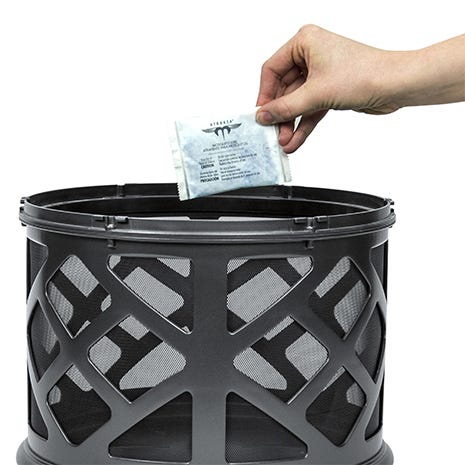 DynaTrap® ATRAKTA® Mosquito Lure Product Specifications
Do you want to know more helpful details about the DynaTrap® ATRAKTA® Mosquito Lure? Take a closer look at the in-depth specifications for this product.
DynaTrap® ATRAKTA® Mosquito Lure Product Specifications
Model #
C100611
Sizes Available
1 pack, 2 pack, 3 pack
For Use
Place in any DynaTrap® Mosquito and Insect Trap to enhance catch rates
Includes
2 ATRAKTA® mosquito lures
How to Use
Replace every 60 days for best results
ATRAKTA® MOSQUITO LURE SACHET
Model Number
C100611
Size Options
1 Pack, 2 Pack, or 3 Pack
Weight
0.05 lb
Dimensions
8.23 × 5.9 × 0.25 in
how long can you store an unopened sachet at room temperature before the chemical expires
Question by: dale king on Sep 1, 2021, 7:53 AM
When unopened, this product does not have an expiration.
Answer by: Lauren Steiner on Sep 1, 2021, 8:52 AM
Are there stores near me where I can buy the Atrakta? my zip 55341
Question by: Julie Fritz on Jul 4, 2022, 5:01 PM
Answer by: Brandon DeLeon on Jul 4, 2022, 5:56 PM