Nothing puts a damper on your camping trip like bugs swarming around your head and giving you itchy bites. Put a stop to these pests buzzing around you and enjoy your outdoor trip with these tips on preventing bug bites! Plus, learn how you can use DynaTrap® products on your next camping adventure.
Avoiding the Bug Bites
Campgrounds often create an ideal environment for mosquitoes to thrive. They tend to be well shaded throughout the day. There are many sheltered areas such as bushes, trees, and grasses for them to hide out. Plus, many campsites are situated near slow-moving streams or have long-standing puddles from being in the shade, allowing mosquitoes to breed.
Bug bites that you get while camping can last long after you get home. Don't worry, though, because there are some ways to limit the amount of bug bites you receive. Here are some simple tips that you can practice on your next camping trip:
Wear long sleeves and pants – Although it might seem obvious, some people forget that the more of your skin that is covered, the less opportunity for the bugs to bite your skin.
Avoid camping out near ideal insect habitats – You might think camping with a close view of the water might be a good idea, but it's usually not. The closer you are to the water, the closer you are to potential breeding grounds and a giant resource to most bugs.
Protect the tent – Keep your tent closed when possible. Choose a tent with vented mesh windows and doors so you can enjoy airflow while you sleep, but mosquitoes won't be able to enter. Also, be sure to store food outside of the tent so that it's not attracting any sort of bugs inside.
Start a fire – A campfire is a simple and fun way that you can deter mosquitoes and other flying insects. Because these bugs don't like the smoke, they will stay further away from the site.
There are other ways that you can protect yourself from bugs when you're outside, and that's by using DynaTrap® products!
Gear Up for Camping Season

Using DynaTrap® During Camping Trips
There are many essential items to add to your packing list when planning a camping trip. But there's one handy tool you might not have thought of. You might have your DynaTrap® running 24/7 to protect your yard and property from nuisance insects, but you can also use our products to protect yourself from bugs while on your camping trips!
If you know that your campsite is going to have power, be sure to pack your DynaTrap® ¼ Acre Insect Trap! Lightweight, portable, and travel-sized, this outdoor trap can easily protect your entire campsite. With a UV light and fan to attract and trap insects, this discreet and efficient trap doesn't make any noise that could bother you or other nearby campers. Or, you could go with the DynaTrap® Outdoor Mosquito and Insect Trap with Atrakta Pod. The Atrakta pod adds another layer of defense to the trap because the lure is working to attract even more mosquitoes and flying insects. This trap can be placed anywhere near your campsite, doing all the hard work for you so you can enjoy your trip.
However, if you find yourself camping and with no electricity or outlets, our DynaZap® Extendable Insect Zappers are essential to pack for your camping trip. These battery-powered electric fly swatters kill bugs on contact. With its telescoping handle and bending head, you can get rid of those bugs that seem to be hard to reach. A safety switch activates when the trigger button is pushed, so this is safe and easy to use. You can also implement the battery-powered DynaShield® device! This portable repellent device uses a natural blend of essential oils to push mosquitoes away from you and your campsite. Get hours of non-stop protection from this device by stocking up on Repellent Refill Pads!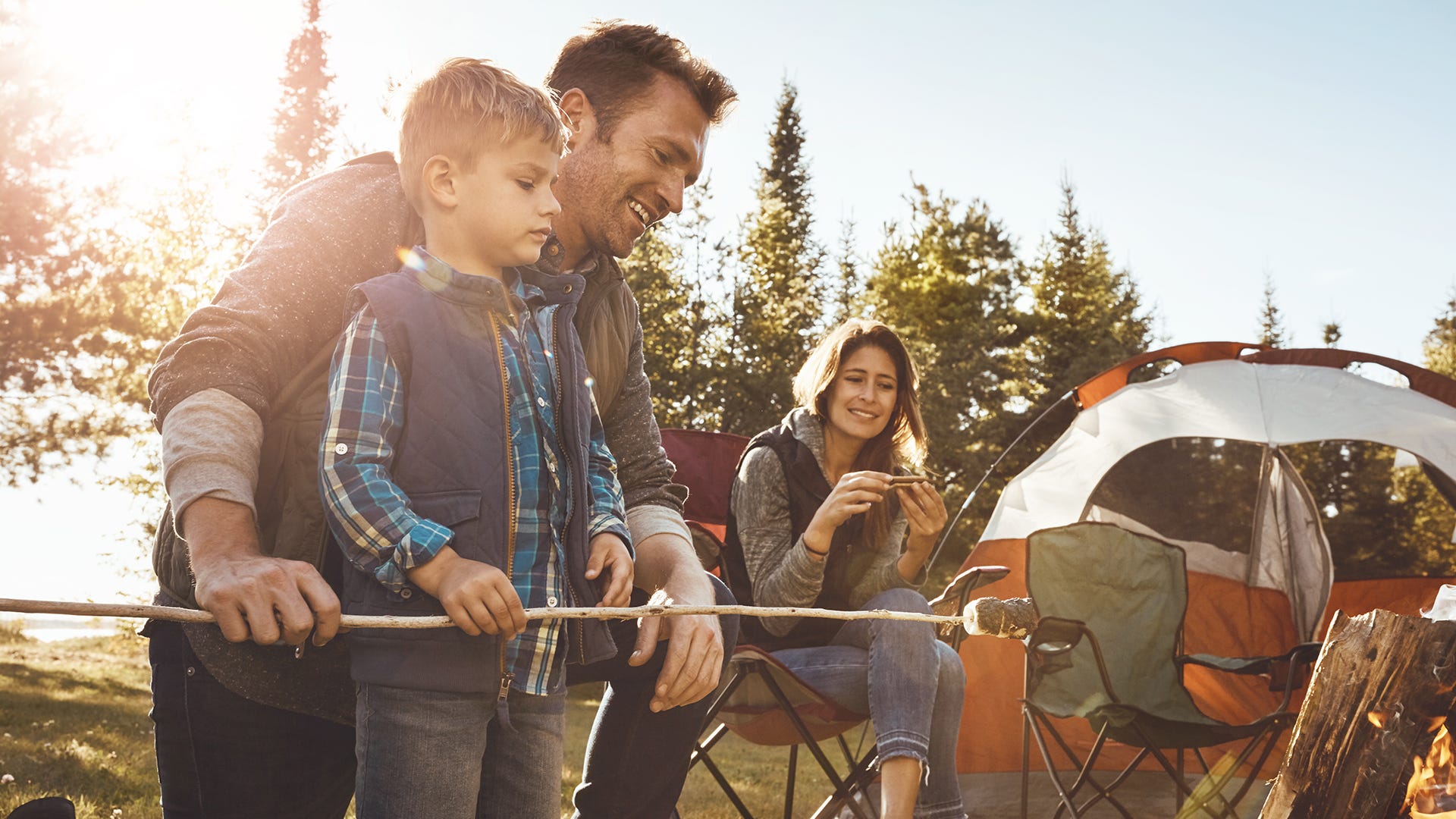 Want More Camping Tips?
We want to make sure that your camping trip is as bug-free as possible. Let us know how you avoid those annoying bug bites on your camping trips by visiting our Facebook Page. Stay up to date on the best bug-free practices and the latest information about DynaTrap® products when you subscribe to our e-newsletter!