Dynadefense®
How Traps & Shields Work Together
Maximize your prevention and protection efforts by using the DynaShield® Mosquito Repellent in combination with your DynaTrap®! The DynaShield® uses repellent pads infused with a pleasant, summery blend of natural essential oils to push mosquitoes away from you. Meanwhile, the DynaTrap® uses attractants to pull mosquitoes away from you, and then the whisper-quiet fan sucks them into the retaining cage where they dehydrate and die.

DynaShield® Repels
mosquitoes and pushes
them toward your DynaTrap®
Versatile and battery-powered, the DynaShield® Mosquito Repellent device uses natural essential oils to repel mosquitoes for up to 6 hours per repellent pad. Keep the portable device by your side whenever and wherever you spend time outdoors. DynaShield® is safe to use around kids and pets as it works to keep the mosquitoes away from you while your DynaTrap® pulls the insects in to eliminate them.
Shop Our Complete Mosquito Defense Product Line »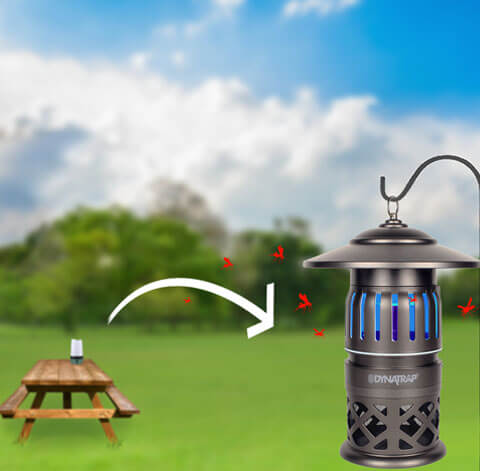 DynaTrap® Attracts
mosquitoes toward an
unoccupied area, and
traps them for good!
As the DynaShield® pushes mosquitoes away, your DynaTrap® works to pull in mosquitoes and other flying insects from a distance. The trap uses bulbs to generate warm light and a TiO2 coating to produce CO2 (which mimics human breath), making the device irresistible to a variety of flying pests. DynaTrap® Mosquito & Insect Traps protect any outdoor space with coverages ranging up to 1 acre.
Pair your DynaTrap® with the DynaShield® device to push the bugs away from the places you want to be, while pulling them right towards the trap! Once in the trap, they will dehydrate and die within 24 hours.
Check out the products you'll need for a dynadefense® »